Park Central
318 W College Ave
Appleton, WI 54911
920-215-0239
Amenities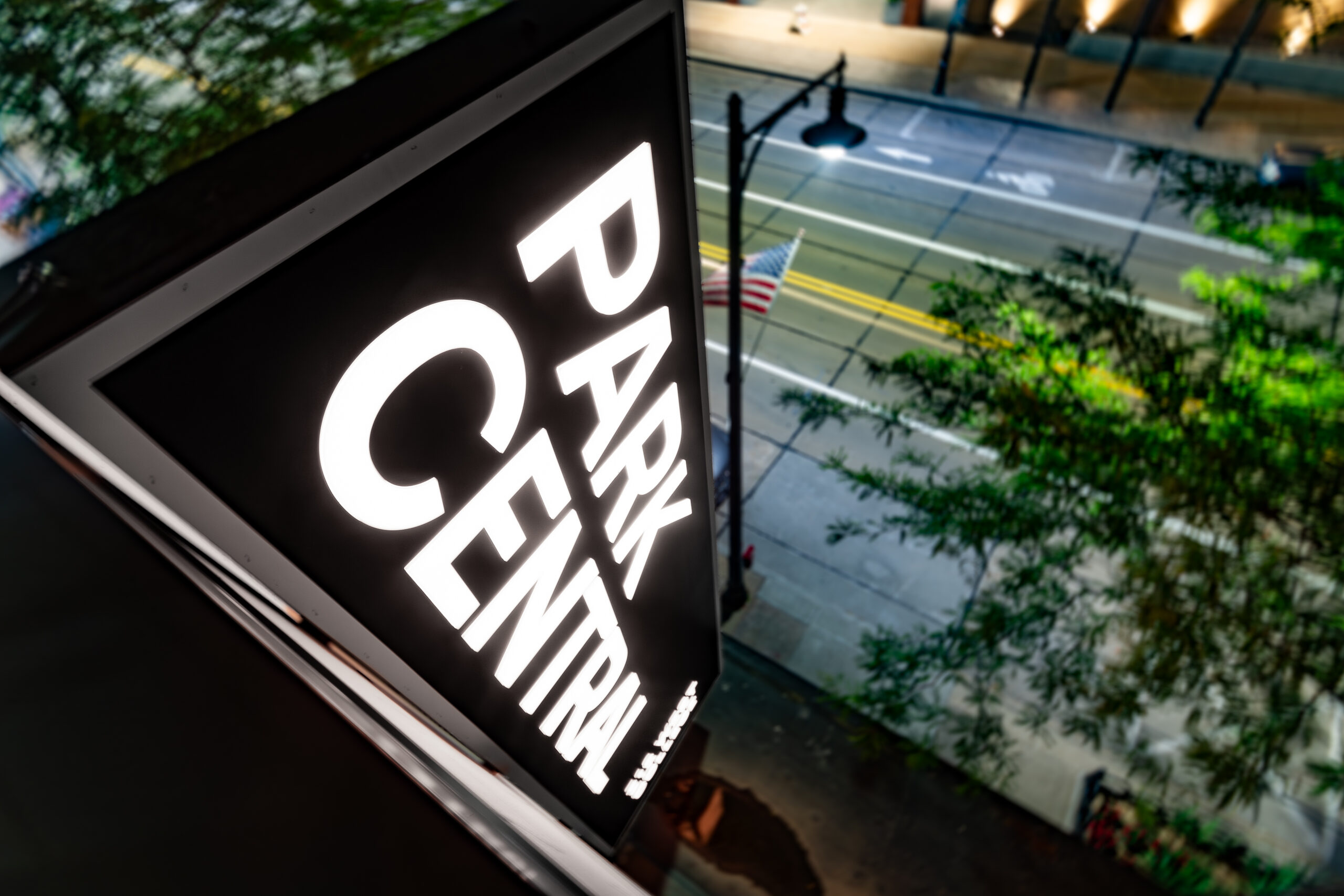 Living at Park Central is more than just a home. It is a home filled with entertainment that you'd typically only find in multi-million dollar estates. No matter whether you are hosting or having a more intimate night, there is something to keep you entertained without having to leave the comfort of the building.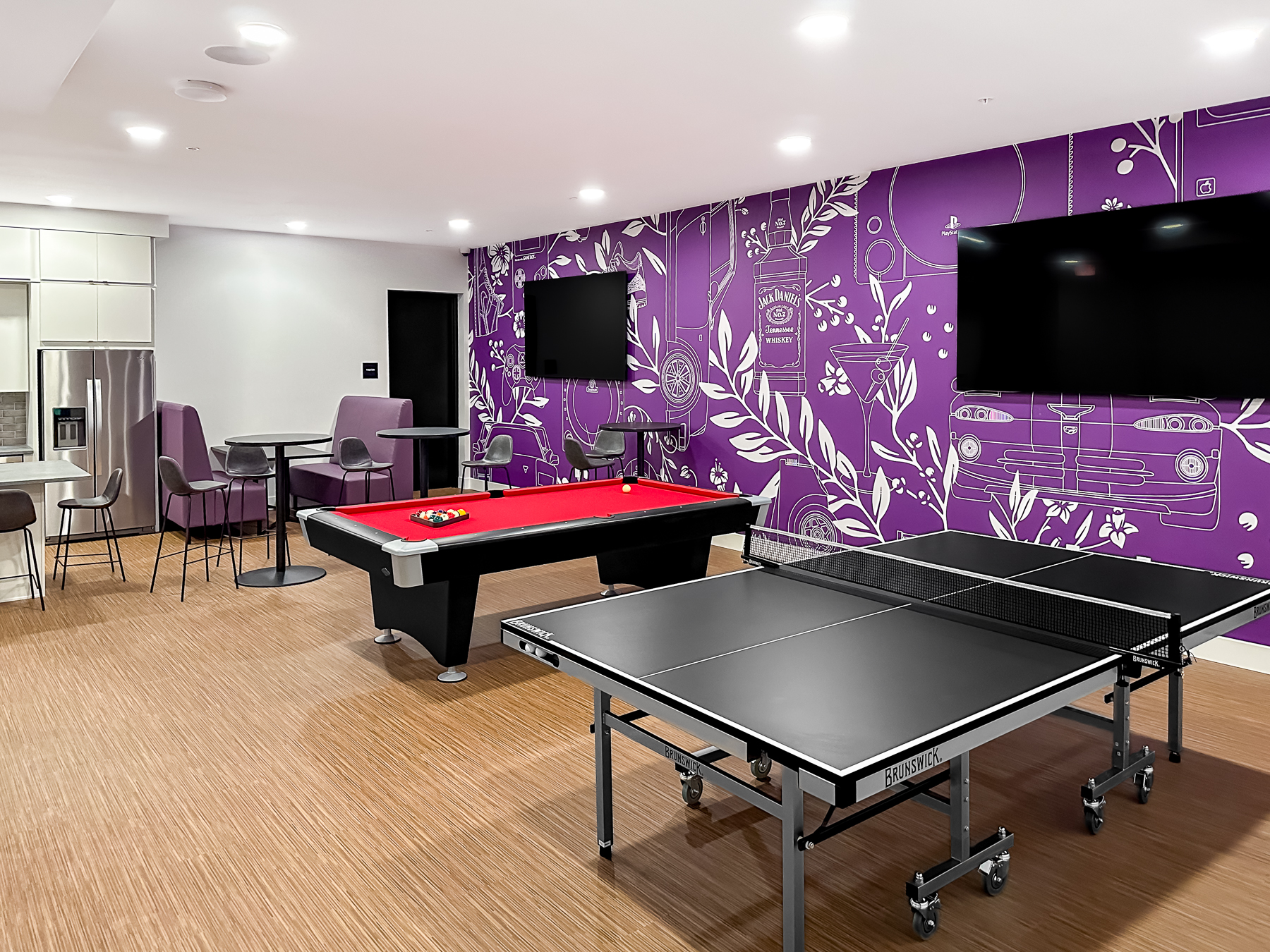 Rec Room + Games & Kitchen
This is the heart of Park Central. Whether you are entertaining friends, mingling with other residents, or having some time to yourself – this is the hub for entertainment.
Seating is plentiful, with "bar tables" + stools, a booth, and a large island with seating around.
There is a large kitchenette (minus the oven/stove), spacious refrigerator/freezer to store all the snacks, and multiple beverage fridges.
You'll also find enough cupboard space to keep things organized if needed.
This area could easily accommodate a decent sized get-together.
There is also a bathroom for convenience.
For visual and physical entertainment:
Two 75″ 4k Samsung Televisions – perfect for watching sports, movies, or throwing on some music videos in the background.
One Brunswick Smash 7.0 Ping Pong Table
One 8′ Pool Table + Equipment Holder on the wall
Additionally, this is a hub for another reason: it connects the other two entertainment features of the building.
There is a door on one side that leads directly into the theater room.
On the other side, there is an opening that leads directly into the Golf Simulator.
This layout was done intentionally, so people using the simulator can easily be social with others in the rec room area.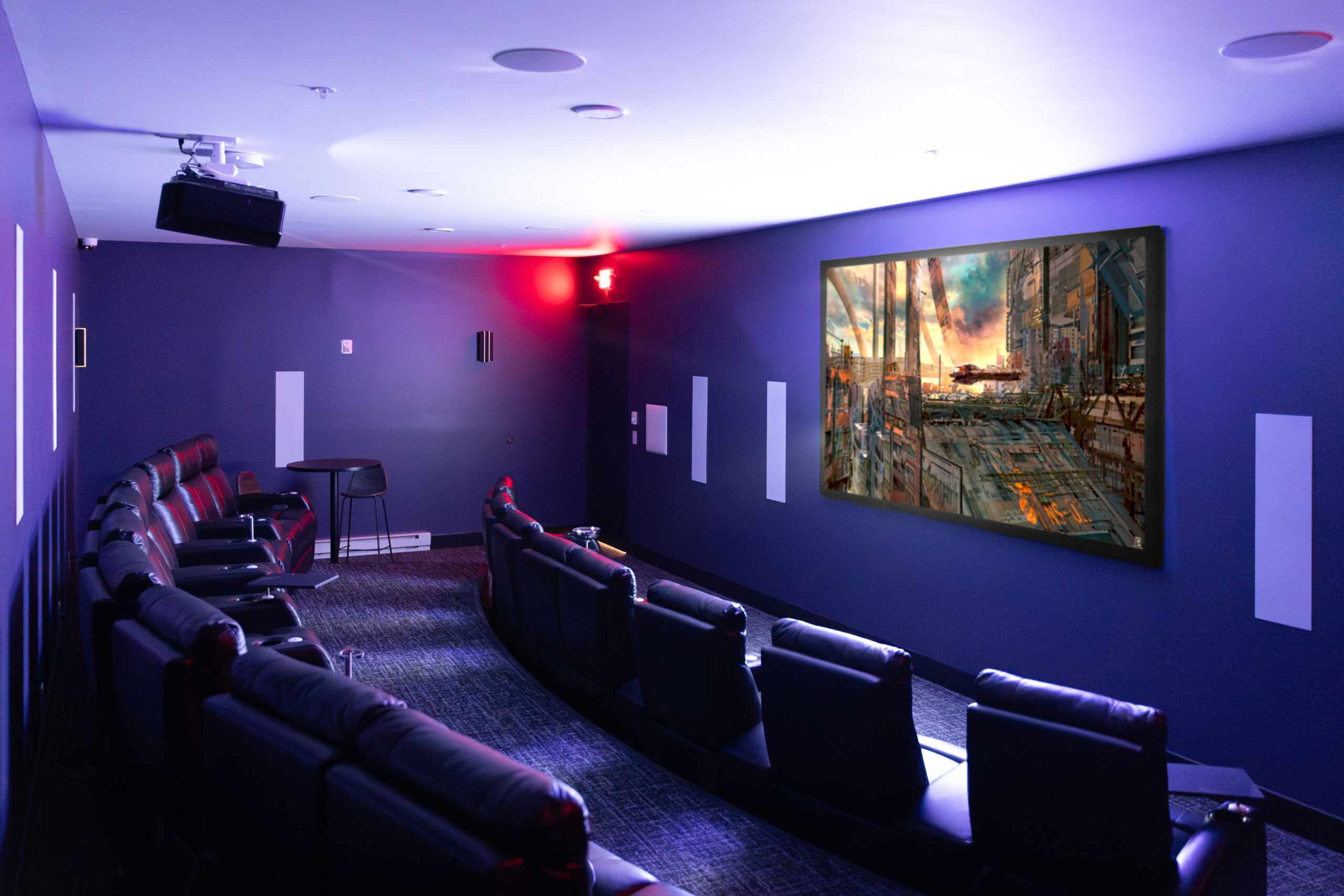 High-End Theater
Movie nights or game nights are taken to the next level at the in-house cinema. There is seating for 18 people in the plush leather recliners, with the rows slightly arched and the back row elevated to assure that everyone has a great view of the screen.
The digital projector emits an incredibly sharp and color accurate image. There is an easy access HDMI® hookup on the wall for connecting a laptop, making access to streaming or other content incredibly easy. Watch movies in the way they were intended.
If you're more in the mood for split-screen Mario Kart with your friends, or seeing your story-driven game like you've never witnessed it before- you can easily hookup a console.
Complimenting the projector is a plethora of high-fidelity audio equipment. The soundscape rivals the newest, most hi-tec movie theaters; making for a truly immersive movie watching experience.
Professional Grade Golf Simulator
Bringing the course to you, our golf simulator is a no-expense spared experience for the avid and beginner golfer, alike.
The Trackman® simulator offers a plethora of options when you want to swing clubs, whether alone or with others. You can play a full round on incredible course from around the world or opt for something a little different with their challenges.
Beginners & pros alike can find this to be a super valuable tool to help them discover their swing style, dial in their power and master their ball control.
Whether you just want to play a round after work, or not get rusty over the winter, you'll always have access to a course right at home.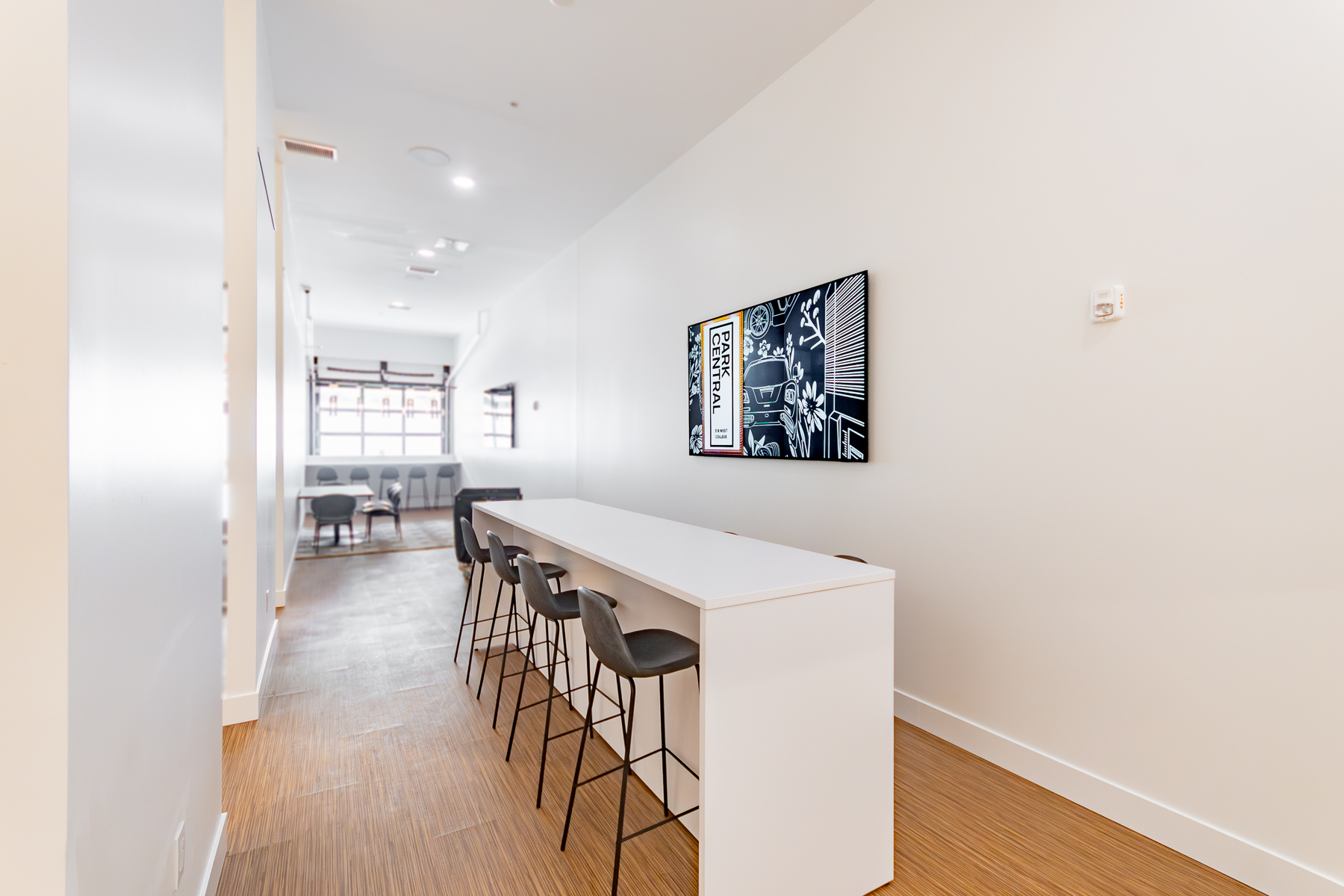 Communal Workspace
Providing a much different vibe than the Rec Room, our communal workspace is perfect for those that work from home and just need a change of scenery to keep their brains firing at max capacity. This area is located in the front of the building, right by the entrance, so conducting a 1 on 1 meeting in this space would be easy for you and welcoming for your guest.
It's also important to have a life outside of work, so grab a book and find a seat or meet a friend and talk about life.
This area provides ample natural lighting, various seating options, a counter seating area with a view of outside, and also a sink and cupboard space if needed while you're utilizing the area.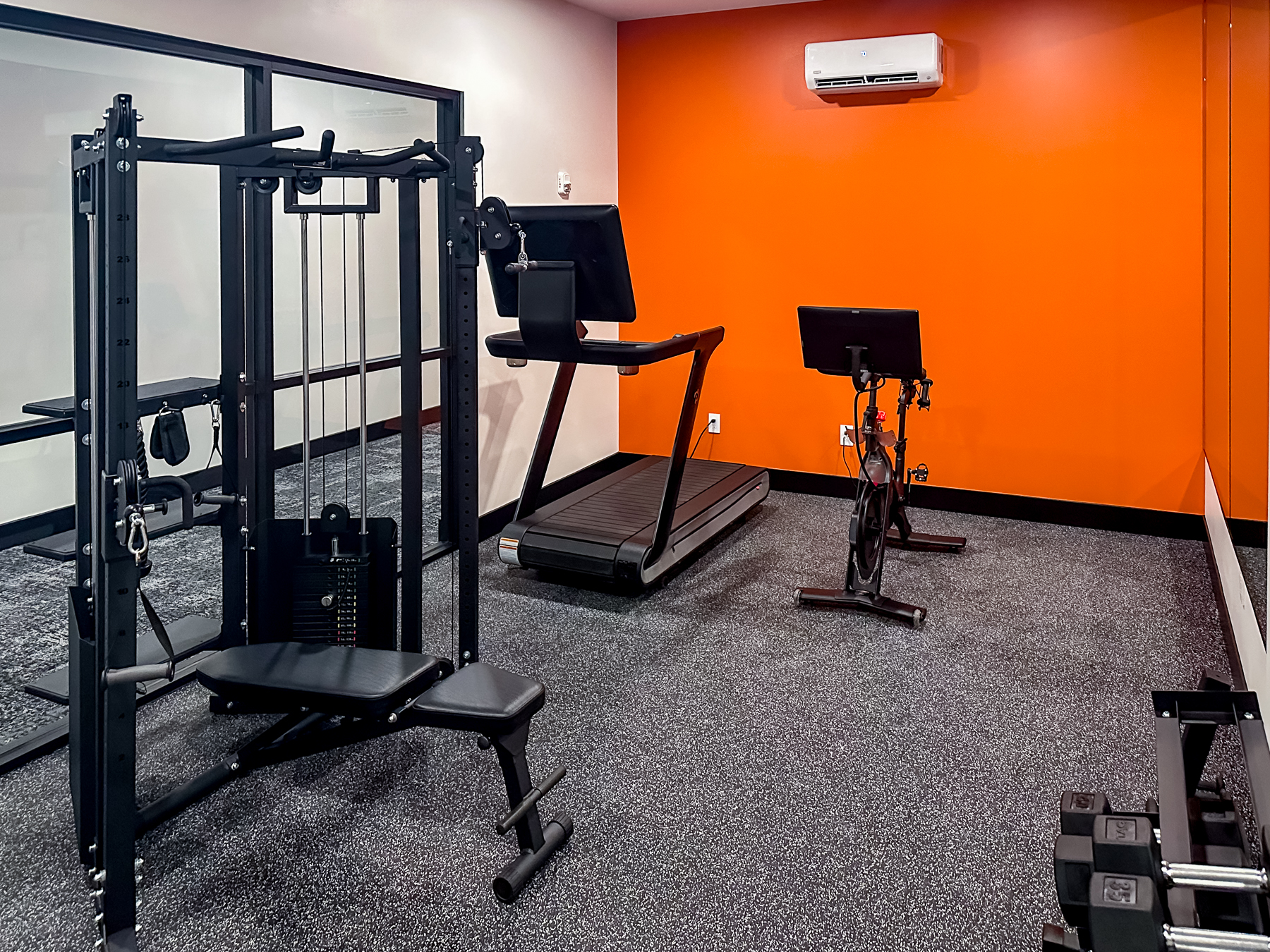 Well-Equipped Fitness Center
The more convenient it is to get to the gym, the easier it is to stay committed to your health.
The onsite fitness center is well-rounded, offering the latest of high-end machines.
You can focus on cardio training with the treadmill and bike, both from Peloton – making sure you have plenty of options to dial them into your abilities or goals.
For strength training, there are a variety of dumbbells to match whatever your ideal number is.
To round out your session, there is a multi-purpose workout machine that adjusts to your needs.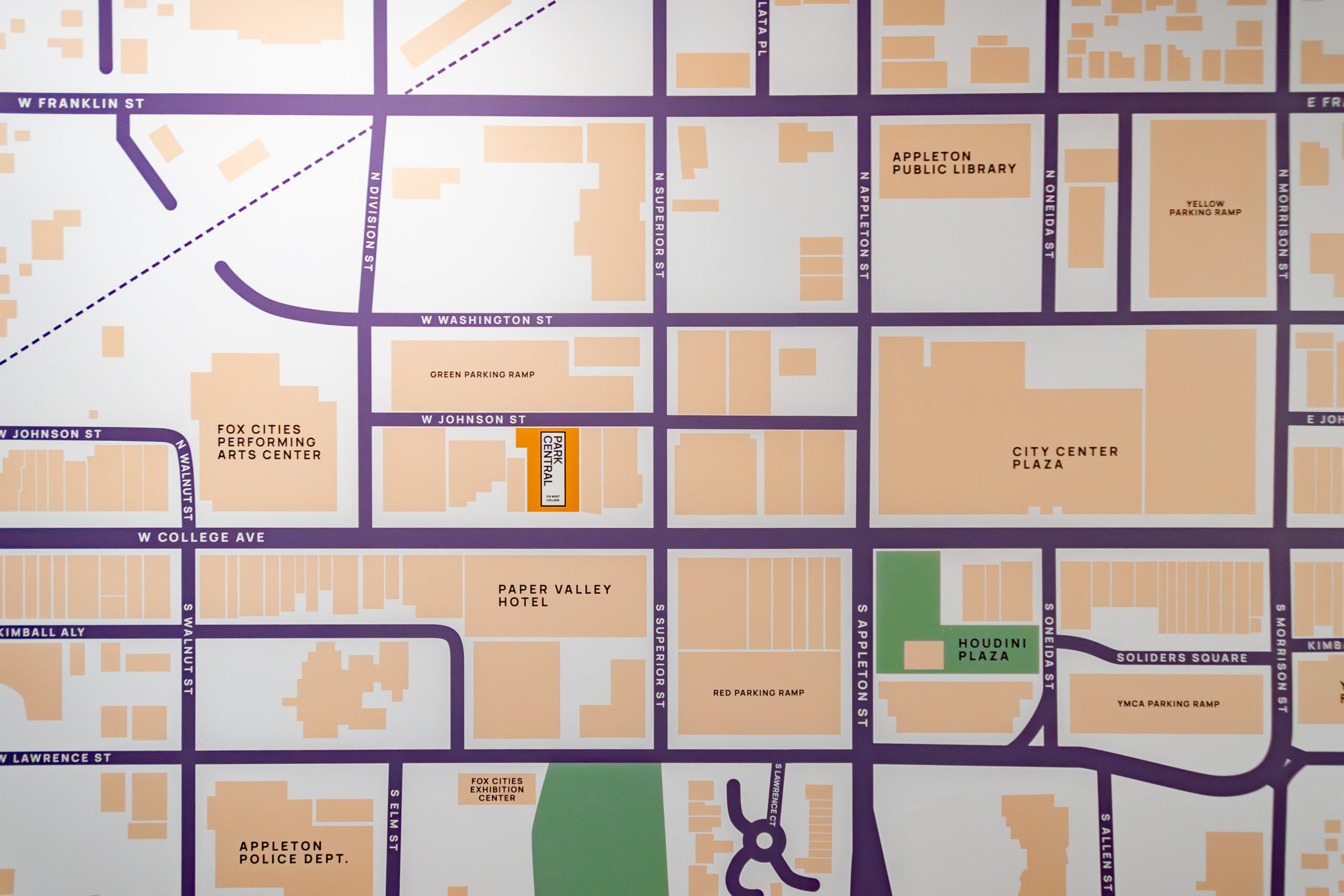 Location
We consider the location of Park Central to not only be an ideal convenience, but also an amenity.
We are located right in the heart of downtown Appleton, which means that there are countless restaurants, bars, and shops just a brief walk from your door.
That's it. The location speaks for itself.